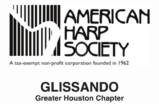 GLISSANDO


Greater Houston Chapter
August 2018
A Message From Our President

As we wind up our summer vacations, many thanks to Emily Klein who is finalizing plans for the GHC opening event. AHS artist

Abigail Kent

will perform and teach a master class on Saturday, September 22. Meanwhile,

Elizabeth Webb

is putting the finishing touches on our new GHC website. Hope Cowan and her committee are planning the Spring 2019 Mildred Milligan Competition.

We have a busy, growing chapter and it all begins with your membership. GHC membership levels are $25.00 (individual), $15.00 (student), and $40.00 (family group of 4). On our new website, you may join and also donate to the Mildred Milligan Competition. Or, you may mail your membership to our Treasurer, Alaina Graiser at 1211 9th Street, Huntsville, TX 77320. Our funds are used to encourage, award, and promote harpists of all ages.

I hope you will join us in what promises to be a very exciting year of harp performance for all and competition experience for our students.

–Mary Jane Sinclair

Sat. Aug 11 at 7:30 pm
14122 Ashland Landing Drive
Cypress, TX 77429

Shoso Duo presents "Miraculous Spring." Harpist Susanna Campbell and shakuhachi master Shawn Head blend eastern and western cultures with an assortment of Japanese folk music and 20th century French favorites.  This is a house concert, so seating is limited.  Please RSVP on their Facebook page to reserve a spot. Admission is free; donations are welcome.
A Recap of Houston Summer Programs
Houston Summer Harp Festival
On July 9th, 38 harpists arrived at the Houston Baptist University campus to begin a fun-filled week of harp playing under the instruction of Kimberly Snaufer DeRosa,

Therese Honey

, Hope Cowan, and Susanna Campbell. In addition to preparing their harp ensemble pieces, the students were also able to interview harpist composers, write their own harp ensemble pieces, and learn about composition. The week culminated in their concert on Saturday, July 14, when they played a diverse collection of harp ensemble works and celebrated the work and fun of the week.
AFA Summer Music Festival
Harp students Orson Lybbert and

Kaitlyn Swaim

had the opportunity to attend American Festival of the Arts Summer Conservatory in June and July. Harp faculty artist Emily Klein led daily orchestra sectionals and harp ensemble rehearsals, and was joined by 

Paula Page

, former Houston Symphony Principal Harpist and Associate Professor of Harp at Rice University, for master class instruction. AFA provides students the chance to participate in orchestra, harp ensemble, and enrichment classes such as music in film, music theory, and music history. These talented harpists performed in two orchestra concerts, one at Miller Outdoor Theater and one at Houston Baptist University, and a chamber music concert at the High School for the Performing and Visual Arts.
New Harp Faculty:
Stephen F. Austin State University
Congratulations to
Susanna Campbell
, who was recently named harp professor at Stephen F. Austin State University, following the retirement of esteemed harpist
Emily Mitchell
. Susanna received her Master of Music from SFASU and is now an avid freelancer, chamber musician, and orchestral harpist in Houston. She regularly performs as part of the Aurora Trio and Shoso Duo, and is the principal harpist with the Round Rock and Houston Civic symphonies. Already an active teacher, she teaches both harp and piano at Campbell Learning Center and is on faculty at the Houston Summer Harp Festival. Learn more about her at
www.harpandpiano.com
.
Harp Openings at Kinder HSPVA
Kinder High School for the Performing and Visual Arts has harp openings for the 2019-2020 school year. Harp faculty Emily Klein teaches weekly private harp lessons, and students have the opportunity to play in orchestra, band, and harp ensemble. Kinder HSPVA is part of HISD and will be moving into brand new state of the art facilities in January 2019.  Check the website for more information about auditions and open house tours.
Save the Date: September 22
Abigail Kent, concert artist for the American Harp Society, will be in Houston on September 22, 2018.  Among her many awards, she was a finalist at the 2016 International Harp Competition (Hungary), a laureate finalist and senior division winner of the 2015 American String Teachers Association National Solo Competition, a semi-finalist in the Chief Musician category of the 3rd Wales International Harp Competition in 2014, and the winner of the "Play with the Pros" concerto competition at the Saratoga Harp Colony in 2013.
Made possible by the AHS, Abigail will perform a 2:00 pm recital with a masterclass to follow (at approximately 3:30 pm).  The event will take place at Christ the King Lutheran Church (2353 Rice Blvd), and signups for the masterclass will be available in August. Overflow parking is available in the Greenbriar parking lot at Rice University.
Please note that this event is our chapter's membership kick-off event.
Membership for 2018-2019 Greater Houston Chapter of the AHS:
$25 for adults
$15 for studentsRecital:
$15 for non members
$10 for members
Free for studentsMasterclass:
$20 participation + $15 student membership fee
Free to audit
Questions? Contact Emily Klein at kleinemilys@gmail.com.
Registration due 8/15 for HYHE
Calling all harp students in Houston: register today for the fall semester of the Houston Youth Harp Ensemble! The inaugural season will feature music from students' favorites movies and musicals, and it's sure to be a fantastic time. To guarantee a spot in the program, registration is due August 15.

The details:
Geared towards middle and high school students
Two ensembles offered to students of varying levels
Rehearsals twice a month on Saturday mornings, with an end-of-semester concert
Both pedal and lever harpists welcome
The program is led by Naomi Hoffmeyer and Stephanie Gustafson. Naomi is the principal harpist with Corpus Christi and California Symphonies. She also teaches in the Fort Bend school district and has coached harp ensembles for TMEA regional orchestras. Stephanie is the principal harpist with Baton Rouge Symphony Orchestra. She spends her summer teaching high school harpists at Blue Lake Fine Arts Camp in Michigan, and has taught at the Monarch Institute and Travis Elementary through her young artist fellowship at Da Camera of Houston.
Like HYHE on facebook or visit the website to learn more. Email houstonyouthharpensemble@gmail.com with your questions.
New Virtual Retreat: Seasons of the Harp
Hosted by harpist Martha Gallagher, Seasons of the Harp is a 4-week virtual retreat designed to help you discover and delight in connecting yourself, your playing, and your music with the natural rhythms of the season.

Each session ranges from hands-on harp actions to a variety of uplifting ideas that will give rise to your inner joy, artistry and creativity through exploring harp challenges, special guests, music, recipes, wellness wisdom, and much more–all inspired by and centered around being in harmony with the rhythms of the seasons. And all while having a whole lot of fun!

Full retreat description, FAQs, pricing, and registration available here. Registration deadline is Friday, August 3. 
Lyon & Healy Petite 85 for rent.
Contact

Emily Klein

at
kleinemilys@gmail.com for more information.
Mary Jane Sinclair, President
Kate Gabriele
, Vice President
Alaina Graiser, Treasurer
Stephanie Gustafson, Secretary
Hope Cowan
, Mildred Milligan Competition Chair
Elizabeth Webb, Webmaster
Like the information you see here? Want more content in real time? Be sure to join the discussion on our Facebook page by clicking on the button below!
Do you have news to share with our community? Email upcoming events, professional announcements, classifieds, and photos of past GHC events to stephanie.gustafson2@gmail.com.