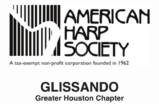 GLISSANDO


Greater Houston Chapter
February 2019
A Message From Our President

Quick! How many songs can you name that include the word "love" in the title?

I "love" writing harp programs this time of year! I'm fortunate to perform for a number of groups who really enjoy the harp and the trivia details I share about playing "The Great American Songbook."  It's a pleasure to share these great love songs and their sometimes very unusual beginnings.  So, February can bring on its blustery weather because "I've Got My Love To Keep Me Warm." And a few hundred other memorable songs!

Please mark your calendars to attend the Mildred Milligan Competition in March. You are invited to come see and hear the future of the GHC. You are welcome to audit the all-day competition. We will have light refreshments and I know you will enjoy the great range of virtuosity. Hope Cowan and her committee have once again developed a wonderful event which benefits all of our teachers and students.  I'll see you there!

Also, this Sunday, February 3, is our social meeting, complete with food, fun, and gossip. Please bring your used music to donate to our Harper's Bazaar. Thank you, Kate Gabriele, for hosting. We may even play some of those love songs, just for you! Do you have a request?

—
Mary Jane Sinclair
GHC President

Feb. 2 at 1 pm
MATCH
3400 Main St

Lone Star Lyric presents a concert of French music featuring soprano, pianist, and harpist Cindy Qin. Cindy will be playing works by Ravel, Rota, and Presle.

Feb. 2 at 4:15

MFAH

1001 Bissonnet St

Join Shoso Duo (featuring harpist Susanna Campbell) in gallery 220 for a concert featuring Japanese music and additional selections from Vincent van Gogh's time. Concert is free with museum admission.

Feb. 2 at 7:00 pm

10840 Beinhorn Road

Emily Klein performs with guitarist Marc Garvin for Fory Charitable Trust's fundraiser concert at First Congregational Church. Cost of tickets: $35 in advance

Feb. 7 at 6:30 pm

Contemporary Arts Museum

5216 Montrose Boulevard

Emily Klein performs with flute, bassoon, viola, and double bass in a Musiqa concert featuring works by female composers.
Chapter Event on Sunday, 2/3
Our next event for the 2018–2019 season is scheduled for Sunday, February 3, 2019 from 3:00–6:00 pm.

Join us for our post holiday chapter meeting and get–together. Feel free to bring a favorite dish or beverage to share and sheet music to donate to our Harper's Bazaar, which benefits the chapter. The event will take place in the home of board member, Kate Gabriele, at 309 Snover Street, Houston, TX 77007. There is parking on nearby streets, such as Dickson and Patterson. Please mark your calendars to attend this entertaining gathering.

Please contact Kate Gabriele at kategabriele@yahoo.com or 469.831.4328 with any questions or concerns. We hope to see you there for some fellowship, food, and musical fun!
Registration Open for 2019 Houston Summer Harp Festival
Sponsored by Houston Baptist University, the Houston Summer Harp Festival (July 8–13, 2019) brings young harpists together in a fun and educational atmosphere for a week of intense and non–competitive study of the harp, its history, and music. The festival is open to incoming 6th grade through recently graduated 12th grade lever harp and pedal harp students who are comfortable with reading bass and treble clef and have had a minimum of 6 months of harp instruction. In a relaxed atmosphere that encourages camaraderie and artistic growth, students are equipped with practical tools and experiences to become more confident musicians through ensemble playing, small group projects, workshops, and master classes.
Join faculty Kimberly DeRosa, Therese Honey, Hope Cowan, and Susanna Campbell this summer for a fun, harp filled week that culminates in a harp ensemble concert.  This summer is extra special, as it is the 20th anniversary of the Houston Summer Harp Festival. Registration and scholarship applications can be found at: http://houstonsummerharpfestival.com/.
NEW Middle School Summer Harp Program
The American Festival of the Arts will hold an orchestra and chamber program for middle school harpists at High School for the Performing and Visual Arts from June 10–June 22 at which Emily Klein will be teaching as the Harp Faculty Artist this summer. Ms. Klein will be joined by Paula Page, former Houston Symphony Principal Harpist and Associate Professor of Harp at Rice University and Megan Conley, Houston Symphony Principal Harpist, for master class instruction. The Summer Festival is led by renowned music educators and world-class performers. Students will have the chance to participate in orchestra, large and small harp ensemble, master and studio classes, and enrichment classes such as yoga for musicians, music in film and music theory. The program is open to advanced 4th grade through 8th grade students.

AFA's Summer Music Festival for High School students is open to 8th–graduated 12th grade students and will run June 24–July 13, 2019. 
Scholarships are available for need based and merit based assistance. This is an opportunity for students to continue their ensemble work over the summer with other like minded individuals from Houston. Questions? Contact Emily Klein at kleinemilys@gmail.com or visit the website.
The Milligan Competition: March 3, 2019
The winners from the 2017 Mildred Milligan Competition following their May performance
Registration for the 2019 Mildred Milligan Competition closes February 1, 2019.
The event will be held March 3rd, 2019 at St. Luke's Presbyterian Church and is open to Houston area students from first grade through college. Students will perform for a panel of professional harpists and receive detailed feedback on their playing. Winners will receive cash prizes and a performance opportunity at a GHC meeting. Registration and required repertoire are available 
here
. Questions? Email
Hope Cowan
at 
hope.k.cowan@gmail.com
.
Camac Hermine 34–string harp, in excellent condition
Contact

Li Wen Su

at liwensu@yahoo.com for more information
Style 100 Lyon & Healy for sale
11–15 years old and in excellent condition
Asking price has been reduced to $16,500 and is negotiable
Lyon & Healy Petite 85 harp for rent starting March 1
Contact

Emily Klein 

at kleinemilys@gmail.com
38 strings and full levers
Contact

Elizabeth Webb

at elizabeth@houstonharpmusic.com
Mary Jane Sinclair, President
Kate Gabriele, Vice President
Alaina Graiser, Treasurer
Stephanie Gustafson, Secretary
Hope Cowan, Mildred Milligan Competition Chair
Elizabeth Webb, Webmaster
Like the information you see here? Want more content in real time? Be sure to join the discussion on our Facebook page by clicking on the button below!
We want your harp news! Email upcoming events, professional announcements, classifieds, and photos of harp events to stephanie.gustafson2@gmail.com.