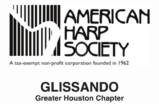 GLISSANDO


Greater Houston Chapter
August 2019
A Message From Our President

Pictured: Deborah Henson–Conant, who visits Houston on August 2

Hello Harpists!

With "back to school" right around the corner, it's also "back to harp" season! Hopefully you all had a wonderful summer and are feeling energized and excited about the upcoming year. We have some exciting events planned for the GHC 2019/20 season, beginning with the Deborah Henson–Conant workshop and concert August 2, and ending with a recital featuring our talented students in the spring. Stay tuned for dates and details coming soon.

—

Hope Cowan
GHC President

August 2, 1:00–9:30
Acceler8 Office
13105 Northwest Fwy, Suite 500

With electric harp, voice, and a looper pedal, Deborah plays an 11 pound carbon fiber instrument and combines humor with affirming stories to create a unique musical experience. Events include workshops, a concert, harp jam, meals, and more.

August 10 at 4:00 pm
MFAH
1001 Bissonnet St

Susanna Campbell will perform a concert of solo harp music by Carlos Salzedo, Gary Schocker, Ottorino Respighi, and Deborah Henson–Conant surrounded by the spectacular art at the MFAH. This event is held in conjunction with the Armchair Travel Series film "Degas: Passion for Perfection."
Two Chapter Announcements
This is a reminder that membership for the GHC runs from September 1–August 31 and all memberships expire on September 1, 2019. To receive ticket price discounts, participate in chapter events, and publish your classifieds, please remember to pay your dues at www.houstonharpists.com.
Are you looking to get more involved in the Houston chapter of the American Harp Society? The GHC board is looking for someone interested in heading up the 2021 Milligan Competition. Ideally, this person would be able to help plan the spring 2020 student chapter recital. The Milligan chairperson would receive the support of the board, the former Milligan chair, and a committee of his or her choosing.

Contact hope.k.cowan@gmail.com if you want to learn more or would like to get involved.
A Recap of Houston Summer Camps
The Houston Summer Harp Festival welcomed 40 middle and high school aged harpists to the Houston Baptist University campus for a week–long celebration of harp music, harp history, performance workshops, and practical skills. The theme for the festival's 20th anniversary was "Harp Journeys: Yesterday, Today, and Tomorrow." Students created their own harp journey stories and were inspired by the journeys of harpists past and present throughout the week. Festival director Kimberly DeRosa and faculty Therese Honey, Susanna Campbell, and Hope Cowan conducted three ensembles of varying levels in a fabulous concert Saturday morning featuring favorites such as Cindy Horstman's "Wade in the Water," Laura Zaerr's "River Right Rumba," and "Brian Boru's March." The concert concluded with an exhilarating performance of "Triptic Dance" featuring combined festival ensembles. We are already looking forward to our 21st year and hope to see returning students and new faces in 2020!
Photos, clockwise from top left:
First day of camp with all 40 harp students
Lisi Clarke and Jacquelyne Kelly eating lunch
Dorm chaperones/harp moms Zawanda Washington and Kathie Goldsmith providing afternoon tea for faculty
Students from the Allegro ensemble in dress rehearsal on Friday
The AFA Summer Music Festival took place in June and July at High School for the Performing and Visual Arts. AFA consisted of daily orchestra and chamber music classes for middle school and high school students, at which Emily Klein was the harp instructor. She was joined by Megan Conley, principal harpist of the Houston Symphony, and Paula Page, former Houston Symphony principal harpist and professor of harp at Rice University, for master class instruction. The program culminated in orchestra and harp concerts at HSPVA for the middle school students and concerts at Miller Outdoor Theater for the high school students. In addition to orchestra, harp ensemble, and master classes, students took class piano, music theory, song writing, and Alexander Technique classes. Interested in participating next year? Applications will open in February 2020.
Photos from left to right:
Middle school AFA master class with Megan Conley
Following a concert with the high school AFA students
Two GHC board members, Kate Gabriele and Alaina Graiser, attended this summer's AHS Institute in Winston–Salem, North Carolina. Below, they share their experiences.
The AHS Summer Institute and Student Competition was held from June 16–22 at the University of North Carolina School of the Arts Winston–Salem.
Destination Innovation was its theme. Three themes emerged:
storytelling through music, physical excerise and relaxation practices for harpists, and student instruction and guidance for harp teachers.
Outstanding performing artists that promoted and modeled these themes include Elisabeth Remy Johnson, the Chicago Harp Quartet, Nicolaz Cadoret, and the Armed Forces Harp Sextet.
Plans for future AHS events include:
A conference in Orlando, FL in 2020
An institute in Los Angeles, CA in 2021
A conference in Sioux Falls, SD in 2022
–
Kate Gabriele
Pictured: Kate Gabriele and Alaina Graiser
Attending an AHS Summer Institute is a wonderful way to learn new things, affirm your own knowledge, hear outstanding performances, and connect with harpists from all over North America. In addition to what Kate already mentioned, I thoroughly enjoyed attending a variety of sessions, including some that dove deeper into the life of Henriette Renie, presented strategies for musicianship training with students, and discussed diverse arts engagement topics. There were also fantastic concerts showcasing various styles of new music, storytelling, and harp ensembles.

It was my pleasure to contribute to the institute in both a concert and a panel discussion. The former was a shared concert called "Propelling New Music." My close friend and colleague, Angela Schwarzkopf, played 3 new Canadian works she commissioned; my husband, percussionist Brian Graiser, and I played a harp/percussion duo he wrote and a harp/percussion transcription of the first movement of Debussy's "La Mer;" and all 3 of us played a improvisatory graphic score that Brian wrote for the institute. I'm happy to report that the concert was both well–attended and well–received!

Angela Schwarzkopf, Calista Koch, and I also moderated a masters series panel discussion called "Harp Teaching Repertoire" in which we answered questions and led discussions about beginner method books and just about any aspect of teaching harp lessons that people could think of! From "how to supervise students learning to tune their own harps" to "how to teach the concept of accidentals to young children" and "building an intermediate level curriculum" (and many more!), a wealth of collective experiences provided a lively, informative discussion!

All concerts, presentations, and panel discussions will be available in the International Harp Archives if you would like to check out recordings later.

—Alaina Graiser
From left: Alaina Graiser, Angela Schwarzkopf, and Calista Koch
Sign Up for HYHE by August 15
Registration is now open for our fall 2019 semester! "Fantasy and Fairy Tales" will feature both fan favorites and original selections. Think Beauty and the Beast, Harry Potter, and other enchanting tunes! Lever and pedal harpists who have been playing for at least one year are encouraged to sign up soon, as repertoire will be tailored to the participating students. The ensemble is directed by Naomi Hoffmeyer and Stephanie Gustafson. Please note the registration deadline for HYHE is August 15. After that date, registration will no longer be accepted.

Visit https://houstonyouthharpensemble.com/ for more information or click here to register.
Lyon & Healy Walnut 23 for sale for $20,000. Included in the asking price is a tuning key, the 3–piece padded travel covers, extra strings, and a harp dolly. Purchased in June 2014 from Lyon & Healy following a soundboard replacement, the instrument is now 18 years old. Tone quality is rich and melodic. The harp was last regulated by Peter Wiley in February 2016. Loans for musical instruments are available through Allegro Acceptance.

Contact Debbie Campbell at 281.620.6720 or 7arrows@gmail.com.

42–string Venus Seraphim for sale. The harp is 10 years old in excellent condition with rich, warm tone.

Sale includes: cover, tuning key/holder, dolly, bench, and a set of strings

$9,500 OBO

Contact:
aqcmmcoy@gmail.com
210-872-6704
Bonnie Goodrich has a Lyon & Healy concert grand 100 in excellent condition with beautiful tone for sale, priced at $16,500 (negotiable). If interested, contact her at 832.496.7302 or bgoodrich43@comcast.net.
Li Wen Su has a Camac Hermine with 34 strings for sale. The harp is in excellent condition. For more information, contact him at liwensu@yahoo.com.
Hope Cowan, President
Kate Gabriele, Vice President
Alaina Graiser, Treasurer
Stephanie Gustafson, Secretary
Elizabeth Webb, Webmaster
Like the information you see here? Want more content in real time? Be sure to join the discussion on our Facebook page by clicking on the button below!
We want your harp news! Email upcoming events, professional announcements, classifieds, and photos of past GHC events to

stephanie.gustafson2@gmail.com

.