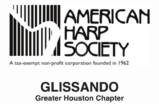 GLISSANDO


Greater Houston Chapter
July 2019
A Message From Our President

Happy summer! Hope all of you are staying cool and enjoying your summer! Now is a great time to be planning for the upcoming season, so be sure to let me know if you have any ideas for GHC programming, and make sure to let Stephanie Gustafson, our fantastic secretary, know about any exciting events you have planned so we can include them on upcoming newsletters. Remember that members can also advertise harps for rent or sale, concerts and events, and teaching on our website: houstonharpists.com.

—

Hope Cowan
GHC President

July 10 at 7:30
Jones Hall
615 Louisiana St

Winner of the 2019 Ima Hogg Concerto Competition, Rachel Lee Hall performs Ginastera's harp concerto with the Houston Symphony. The concert also includes Elgar's Enigma Variations and Mendelssohn's overture from A Midsummer Night's Dream.
Photos from the Milligan Winners' Recital
All the participants in the 2019 Mildred Milligan Winners' Recital on 6/1 with their medals and certificates
July 15: Early Bird Deadline for HYHE
Registration is now open for our fall 2019 semester! "Fantasy and Fairy Tales" will feature both fan favorites and original selections. Think Beauty and the Beast, Harry Potter, and other enchanting tunes! Lever and pedal harpists who have been playing for at least one year are encouraged to sign up! Repertoire will be tailored to the participating students.

Starting this semester, we are introducing early bird tuition.To receive the discounted price, sign up by July 15. From July 15–August 15, tuition increases. After August 15, registration will be accepted at the regular rate only if spots are still available.

Please note: scholarships are now available! Interested students must register and submit the application by the July 15 deadline to be considered.

Visit https://houstonyouthharpensemble.com/ for more information or click here to register.
Bonnie Goodrich has a Lyon & Healy concert grand 100 in excellent condition with beautiful tone for sale, priced at $16,500 (negotiable). If interested, contact her at 832.496.7302 or bgoodrich43@comcast.net.
Li Wen Su has a Camac Hermine with 34 strings for sale. The harp is in excellent condition. For more information, contact him at liwensu@yahoo.com.
Hope Cowan, President
Kate Gabriele, Vice President
Alaina Graiser, Treasurer
Stephanie Gustafson, Secretary
Elizabeth Webb, Webmaster
Like the information you see here? Want more content in real time? Be sure to join the discussion on our Facebook page by clicking on the button below!
We want your harp news! Email upcoming events, professional announcements, classifieds, and photos of past GHC events to

stephanie.gustafson2@gmail.com

.