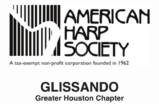 GLISSANDO


Greater Houston Chapter
June 2019
A Message From Our President

Dear Harpists,

Happy Summer! Hopefully with school out for the summer and vacation time on the horizon, we all can take some well–deserved time off. If you are a student, please look at the amazing local summer harp study options listed here! Summer months are a great time to brush up on technique, build new skills, and meet other harpists.

Over the next few months, the GHC board will be working on planning out events and programming for next season. If you have a great idea for a concert, workshop, social gathering, or other harp event, please let me know! We want to involve as many harpists as we can! I can be contacted at hope.k.cowan@gmail.com and 507-993-4969.

I hope to see many of you at our Milligan Winners' Recital TODAY, 2:00pm at Houston Hillel.

—

Hope Cowan
GHC President

June 1 at 2 pm
Houston Hillel
1700 Bissonnet St

Songs for Shakuhachi and Harp

June 1 at 4:15 pm
MFAH

The concert, featuring harpist Susanna Campbell, is included with general museum admission.

June 7 at 7 pm
June 9 at 6 pm
Archway Gallery

Shoso Duo, with harpist Susanna Campbell, brings you their new program "Songs for Shakuhachi and Harp."

REFLECT: harp and percussion

June 9 at 6:00 pm
First Baptist Church
12177 Interstate 45 N
Willis, TX

Featuring Alaina Graiser, this program includes works for harp and percussion by Claude Debussy, Maurice Ravel, Lou Harrison, and Brian Graiser.

June 29 at 4:15 pm
MFAH
1001 Bissonnet Street

AURORA performs a concert of music from Da Vinci's lifetime.
TODAY: the Mildred Milligan Winners' Recital
Please join us as we celebrate and feature prize winners in the recent 2019 Mildred Milligan Competition. Ranging in age from 1st grade to high school, these outstanding student harpists will perform a variety of solos. The recital will be followed by a short awards presentation and a reception. This is free and open to the public, so please come support the Greater Houston Chapter of the AHS and our wonderful Milligan prize winners. The concert will be at Houston Hillel on 1700 Bissonnet St. Visit the
Facebook event
for more information.
Announcing HYHE's Fall Semester:
Fantasy and Fairy Tales
Registration is now open for our fall 2019 semester! "Fantasy and Fairy Tales" will feature both fan favorites and original selections. Think Beauty and the Beast, Harry Potter, and other enchanting tunes! Lever and pedal harpists who have been playing for at least one year are encouraged to sign up! Repertoire will be tailored to participating students.

Starting this semester, we are introducing early bird tuition.To receive the discounted price, sign up by July 15. From July 15–August 15, tuition increases. After August 15, registration will be accepted at the regular rate only if spots are still available.

Please note: scholarships are now available! Interested students must register and submit the application by the July 15 deadline to be considered.

Visit https://houstonyouthharpensemble.com/ for more information or click here to register.
Texas Summer 2019 Study Opportunities
Houston Summer Harp Festival
July 8–13, 2019
The Houston Summer Harp Festival brings young harpists together in a fun and educational atmosphere for a week of intense and non–competitive study of the harp, its history, and music. The festival is open to incoming 6th grade through recently graduated 12th grade lever harp and pedal harp students who are comfortable with reading bass and treble clef and have had a minimum of 6 months of harp instruction. In a relaxed atmosphere that encourages camaraderie and artistic growth, students are equipped with practical tools and experiences to become more confident musicians through ensemble playing, small group projects, workshops, and master classes.
Join faculty Kimberly DeRosa, Therese Honey, Hope Cowan, and Susanna Campbell this summer for a fun, harp filled week that culminates in a harp ensemble concert. Registration and scholarship applications can be found here.
SFA Strings Camp
July 7–13, 2019
A one–week string intensive, the SFA Strings Camp is for middle and high school aged string players. Camp students engage in musical studies with the string faculty and orchestra conductor of Stephen F. Austin State University, and harp students will work with harp faculty Stephanie Gustafson. Housing and meals are available but not required for participation. Students are encouraged to register if they have had at least 6 months of harp lessons and can read both treble and bass clef.

In addition to opportunities to perform with the string orchestra, harp students will participate in harp ensemble and master classes, in addition to receiving regular private lessons. The camp offers both personal attention for harp students and a large community with the rest of the string campers.
The deadline for registration is July 1, 2019. Details and registration information can be found here.
The American Festival of the Arts
June 10–22, 2019

The American Festival of the Arts will hold an orchestra and chamber program for middle school harpists at High School for the Performing and Visual Arts from June 10–June 22 at which Emily Klein will be teaching as the Harp Faculty Artist this summer. Ms. Klein will be joined by Paula Page, former Houston Symphony Principal Harpist and Associate Professor of Harp at Rice University and Megan Conley, Houston Symphony Principal Harpist, for master class instruction. The Summer Festival is led by renowned music educators and world-class performers. Students will have the chance to participate in orchestra, large and small harp ensemble, master and studio classes, and enrichment classes such as yoga for musicians, music in film and music theory. The program is open to advanced 4th grade through 8th grade students.
AFA's Summer Music Festival for High School students is open to 8th–graduated 12th grade students and will run June 24–July 13, 2019.
Scholarships are available for need based and merit based assistance. This is an opportunity for students to continue their ensemble work over the summer with other like–minded individuals from Houston. Questions? Contact
Emily Klein
at
kleinemilys@gmail.com
or
visit the website
.
Emily Klein has two Lyon & Healy lever harps for rent, a 34–string Ogden and a 36–string Troubadour. Two month minimum, and after that, month–to–month. Contact her at kleinemilys@gmail.com if interested.
Bonnie Goodrich has a Lyon & Healy concert grand 100 in excellent condition with beautiful tone for sale, priced at $16,500 (negotiable). If interested, contact her at 832.496.7302 or bgoodrich43@comcast.net.
Elizabeth Webb has four harps for rent. If interested, contact her at elizabeth@houstonharpmusic.com.
Li Wen Su has a Camac Hermine with 34 strings for sale. The harp is in excellent condition. For more information, contact him at liwensu@yahoo.com.
For sale: 44–string, ebony, Lyon & Healy 85 GP pedal harp, goes down to 7th octave D, with an extended soundboard. Bought new from Melody's in December 2007 and regulated every other year by Peter Wiley. The last full regulation was in 2018, with a partial regulation in 2019. Contact mdragoset@runbox.com if interested.
Hope Cowan, President
Kate Gabriele, Vice President
Alaina Graiser, Treasurer
Stephanie Gustafson, Secretary
Elizabeth Webb, Webmaster
Like the information you see here? Want more content in real time? Be sure to join the discussion on our Facebook page by clicking on the button below!
We want your harp news! Email upcoming events, professional announcements, classifieds, and photos of past GHC events to

stephanie.gustafson2@gmail.com

.