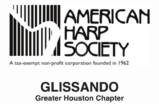 A Message From Our President

Editor's note: Following the chapter's April vote, Hope Cowan has been elected the new president of the GHC. She will begin serving her term on June 1, alongside Kate Gabriele, Alaina Graiser, and Stephanie Gustafson who will all begin the second year of their terms. Our thanks to Mary Jane Sinclair for her service as president.

This summer marks 10 years since I first arrived in Houston. Coming from Wisconsin, the Houston summer was a shock, but I have since grown to love this humid, sprawling city. In addition to the wonderful restaurants, cultural organizations, parks, and trails, Houston has a gem many residents are not aware of: the best harp community around! Full of vibrant performers, dedicated teachers, and talented students, the Houston harp community is active and growing.

I am so grateful to be a part of this organization. It will be a great honor and privilege to serve as the president of the Greater Houston Chapter of the American Harp Society. Mary Jane Sinclair has done amazing work during her term to grow the chapter and bring wonderful programs and events to the community. I hope to follow in her footsteps and further that growth so that the GHC will continue to serve as a place for harpists to come together to learn, network, and celebrate this wonderful instrument.

Please, get involved in whatever way you can! Come to a recital, join our website, subscribe to this newsletter, or join the facebook group. We have some fantastic events planned for the next month; I hope you will join us for any and all of them! The board will begin planning for next season soon, so if you have ideas for programs, performers, recitals, or workshops, please let me know via email (hope.k.cowan@gmail.com) or phone (507.993.4969). I have met many of you, and emailed with many more, but I would love to hear your thoughts and ideas and see you at the many events happening throughout our city and region.

—

Hope Cowan
GHC President Elect

May 5 at 5 pm
see details below

May 10 at 7 pm
Zilkha Gallery at Match
3400 Main Street

The Shoso Duo featuring harpist Susanna Campbell will present a collection of works featuring the bel canto style.

May 11 at 10 am
1819 Heights Blvd.

You're invited to a concert of diverse repertoire at St. Andrew's Episcopal Church, with a reception to follow.

May 11 at 2:00 pm
see details below

May 18 at 2 pm
1318 W 26th St

The last HYHE concert of the year will take place at the Live Oak Friends Meeting House.

May 20 at 6 pm
9950 S. Mason Road
Richmond, TX 77406

Come hear students in grades 2–12 perform solos and celebrate with them at the reception following at the Jesus Christ Church of the Latter Day Saints

May 28 at 12 pm
Houston Methodist Hospital
6565 Fannin Street

Harpist Susanna Campbell will be performing with Aurora Trio as they will present a free program at Houston Methodist Hospital's Crain Lobby in Dunn Tower.
Mildred Milligan Winner Xing Gao in Concert
Harpist Xing Gao, originally from Hubei, China, began her musical studies with piano lessons at the age of four. Five years later, she entered the Central Conservatory of Music in Beijing as the school's youngest harp student, studying under Linlin Wei. She moved to New York after being admitted to The Bard College Conservatory of Music in 2012, as a full scholarship recipient for Bachelor Degree in harp performance studying with Bridget Kibbey and Sara Cutler, as well as double-majored in Italian Studies.

In the summer of 2018, Xing was invited as the only harpist to attend the Chautauqua Music Festival, where she was invited to perform with Yo Yo Ma and his Silk Road Ensemble. In the same year, she was chosen as a finalist in both the 2018 Anne Adams Award Competition, held by the American Harp Society, as well as the 2018 Hong Kong International Harp Competition. Xing also obtained awards at competitions including The Bard Concerto Competition (2014), and she went on to perform the Ginastera harp concerto with the American Symphony Orchestra on the next year. She was presented with the Special Golden Prize in the Vera Dulova International Harp Competition in Moscow (2011), and the Lyon & Healy Award at the International Harp Competition in Shanghai (2010). As an orchestral player, she was presented as the guest principal of China NCPA Orchestra, National Taiwan Symphony Orchestra, China Philharmonic Orchestra, and concerts with American singer Dawn Upshaw in Wiener Konzerthaus in Europe.

This year, Xing will receive her Master's Degree in Music from the Shepherd School at Rice University, where she studied under the tutelage of Paula Page. In May 2019, she will be joining the HangZhou Philharmonic Orchestra in China as their principal harpist, thus starting her orchestral career.
A Concert and Workshop with Kimberly DeRosa
Enjoy a 2:00 pm workshop and 4:00 pm harp concert with Kimberly DeRosa on Saturday, May 11, 2019. The concert is free to the public, with donations accepted for the Gulf Coast Harpers' scholarship fund that helps deserving young harpists attend the Houston Summer Harp Festival. This event is co–sponsored by the Gulf Coast Harpers and the Greater Houston Chapter of the American Harp Society. Find more information about the event here. You can register for the event at the door.
Texas Summer 2019 Study Opportunities
Houston Summer Harp Festival
July 8–13, 2019
The Houston Summer Harp Festival brings young harpists together in a fun and educational atmosphere for a week of intense and non–competitive study of the harp, its history, and music. The festival is open to incoming 6th grade through recently graduated 12th grade lever harp and pedal harp students who are comfortable with reading bass and treble clef and have had a minimum of 6 months of harp instruction. In a relaxed atmosphere that encourages camaraderie and artistic growth, students are equipped with practical tools and experiences to become more confident musicians through ensemble playing, small group projects, workshops, and master classes.
Join faculty Kimberly DeRosa, Therese Honey, Hope Cowan, and Susanna Campbell this summer for a fun, harp filled week that culminates in a harp ensemble concert. Registration and scholarship applications can be found here.
SFA Strings Camp
July 7–13, 2019
A one–week string intensive, the SFA Strings Camp is for middle and high school aged string players. Camp students engage in musical studies with the string faculty and orchestra conductor of Stephen F. Austin State University, and harp students will work with harp faculty Stephanie Gustafson. Housing and meals are available but not required for participation. Students are encouraged to register if they have had at least 6 months of harp lessons and can read both treble and bass clef.

In addition to opportunities to perform with the string orchestra, harp students will participate in harp ensemble and master classes, in addition to receiving regular private lessons. The camp offers both personal attention for harp students and a large community with the rest of the string campers.
The deadline for registration is July 1, 2019. Details and registration information can be found here.
The American Festival of the Arts
June 10–22, 2019

The American Festival of the Arts will hold an orchestra and chamber program for middle school harpists at High School for the Performing and Visual Arts from June 10–June 22 at which Emily Klein will be teaching as the Harp Faculty Artist this summer. Ms. Klein will be joined by Paula Page, former Houston Symphony Principal Harpist and Associate Professor of Harp at Rice University and Megan Conley, Houston Symphony Principal Harpist, for master class instruction. The Summer Festival is led by renowned music educators and world-class performers. Students will have the chance to participate in orchestra, large and small harp ensemble, master and studio classes, and enrichment classes such as yoga for musicians, music in film and music theory. The program is open to advanced 4th grade through 8th grade students.
AFA's Summer Music Festival for High School students is open to 8th–graduated 12th grade students and will run June 24–July 13, 2019.
Scholarships are available for need based and merit based assistance. This is an opportunity for students to continue their ensemble work over the summer with other like–minded individuals from Houston. Questions? Contact
Emily Klein
at
kleinemilys@gmail.com
or
visit the website
.
Bonnie Goodrich has a Lyon & Healy concert grand 100 in excellent condition with beautiful tone for sale, priced at $16,500 (negotiable). If interested, contact her at 832.496.7302 or bgoodrich43@comcast.net.
Elizabeth Webb has four harps for rent. If interested, contact her at elizabeth@houstonharpmusic.com.
Li Wen Su has a Camac Hermine with 34 strings for sale. The harp is in excellent condition. For more information, contact him at liwensu@yahoo.com.
Hope Cowan, President Elect
Kate Gabriele, Vice President
Alaina Graiser, Treasurer
Stephanie Gustafson, Secretary
Elizabeth Webb, Webmaster
Like the information you see here? Want more content in real time? Be sure to join the discussion on our Facebook page by clicking on the button below!
We want your harp news! Email upcoming events, professional announcements, classifieds, and photos of past GHC events to

stephanie.gustafson2@gmail.com

.