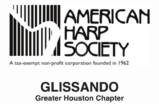 *|MC_PREVIEW_TEXT|*

GLISSANDO


Greater Houston Chapter
April 2019
A Message From Our President

It is humbling, when you witness the fruition of a dream that enabled 42 (!) harpists to experience a juried competition. Thank you, Hope Cowan and your committee, for bringing this event to the GHC on March 3. This competition was well–attended by many members of our chapter as well as the parents and teachers involved. It was an unforgettable day of families and music. Many thanks to all who participated!

Soon, you will be receiving an email ballot for the upcoming 2019–2020 GHC elections. I have enjoyed serving the GHC as president these last three years. Now, I will continue my playing and speaking engagements. Hope Cowan has been nominated as incoming GHC President. Kate Gabriele (vice president), Alaina Graiser (treasurer), and Stephanie Gustafson (secretary) will remain in their positions, fulfilling their terms. Hope has demonstrated her brilliant leadership abilities in her direction of two record–breaking Milligan Competitions.

I was honored to serve the GHC, become acquainted with you, and I'm proud to say that we are succeeding in reaching more Houston harpists. Thank you for your continued support and I'll see you at the upcoming events. Always remember that this world needs more people like you and the beautiful music you provide.

--
Mary Jane Sinclair
GHC President

April 2 at 7:30
The Menil Collection
1533 Sul Ross St.

A rare showing of Cy Twombly's monumental painting, The Treatise on the Veil, is the occasion for this unique musical event at the Menil, featuring Da Camera alum and harpist Emily Klein.

April 20 at 6:30

Campbell Learning Center

1440 Campbell Road

It's an interactive concert for the whole family!! Mark your calendars for a trip around the world. CLC is celebrating music and composers from around the globe. Harpist Susanna Campbell will be performing alongside other CLC faculty.
March's Milligan Competition
Jade Zachary, Division II
Evan Shi, Division II
Division I
First prize: Olivia Lowe
Second prize: Emilse Driver
Third prize: Zara Subramanian
Honorable Mention: Kamila Biazar
Division II
First prize: Vivian Connelly
Second prize: Evan Shi
Third prize: Sarah Christy
Honorable Mention: Eva Rami
Division III
First prize: Bethanie Ann King
Second prize: Adalia Stiglich
Third prize: Amrita Sankrit
Honorable Mention: Zoë Winn
Division IV
First prize: Sonya Weeks
Second prize: Elizabeth Mathis
Third prize: Sophie Chien
Honorable Mention: Sydney Gray
Division V
First prize: Kirsten Karamihan
Second prize: Alyssa Elizondo
Third prize: Evelyn Chien
Honorable Mention: Elise Gentry
Division VI
First prize: Xing Gao
Second prize: Molly Langr
Third prize: Dominique Moreno
Please note: You are invited to attend the Milligan Competition Winner's Recital on June 1st at 2:00 pm at Live Oak Friend's Meeting House. More details to follow. 
The Milligan Competition planning committee, from left: Stephanie Gustafson, Emily Klein, Naomi Hoffmeyer, and Hope Cowan (not pictured: Susanna Campbell)
Save the Date: May Chapter Event
Enjoy a 2:00 pm workshop and 4:00 pm harp concert with Kimberly DeRosa on Saturday, May 11, 2019. The concert is free to the public, with donations accepted for the Gulf Coast Harpers' scholarship fund that helps deserving young harpists attend the Houston Summer Harp Festival. This event is co–sponsored by the Gulf Coast Harpers and the Greater Houston Chapter of the American Harp Society. Find more information about the event here.
Texas Summer 2019 Study Opportunities
Houston Summer Harp Festival
July 8–13, 2019
The Houston Summer Harp Festival brings young harpists together in a fun and educational atmosphere for a week of intense and non–competitive study of the harp, its history, and music. The festival is open to incoming 6th grade through recently graduated 12th grade lever harp and pedal harp students who are comfortable with reading bass and treble clef and have had a minimum of 6 months of harp instruction. In a relaxed atmosphere that encourages camaraderie and artistic growth, students are equipped with practical tools and experiences to become more confident musicians through ensemble playing, small group projects, workshops, and master classes.
Join faculty Kimberly DeRosa, Therese Honey, Hope Cowan, and Susanna Campbell this summer for a fun, harp filled week that culminates in a harp ensemble concert. Registration and scholarship applications can be found here.
SFA Strings Camp
July 7–13, 2019
A one–week string intensive, the SFA Strings Camp is for middle and high school aged string players. Camp students engage in musical studies with the string faculty and orchestra conductor of Stephen F. Austin State University, and harp students will work with harp faculty Stephanie Gustafson. Housing and meals are available but not required for participation. Students are encouraged to register if they have had at least 6 months of harp lessons and can read both treble and bass clef.
In addition to opportunities to perform with the string orchestra, harp students will participate in harp ensemble and master classes, in addition to receiving regular private lessons. The camp offers both personal attention for harp students and a large community with the rest of the string campers.
The deadline for registration is July 1, 2019. Details and registration information can be found here.
The American Festival of the Arts
June 10–22, 2019
The American Festival of the Arts will hold an orchestra and chamber program for middle school harpists at High School for the Performing and Visual Arts from June 10–June 22 at which Emily Klein will be teaching as the Harp Faculty Artist this summer. Ms. Klein will be joined by Paula Page, former Houston Symphony Principal Harpist and Associate Professor of Harp at Rice University and Megan Conley, Houston Symphony Principal Harpist, for master class instruction. The Summer Festival is led by renowned music educators and world-class performers. Students will have the chance to participate in orchestra, large and small harp ensemble, master and studio classes, and enrichment classes such as yoga for musicians, music in film and music theory. The program is open to advanced 4th grade through 8th grade students.
AFA's Summer Music Festival for High School students is open to 8th–graduated 12th grade students and will run June 24–July 13, 2019. 
Scholarships are available for need based and merit based assistance. This is an opportunity for students to continue their ensemble work over the summer with other like–minded individuals from Houston. Questions? Contact Emily Klein at kleinemilys@gmail.com or visit the website.
Emily Klein has three harps for rent. If interested, contact her for rental terms at kleinemilys@gmail.com.
Lyon & Healy Ogden: $75/month

Lyon & Healy Troubadour VI: $90/month

Lyon & Healy Petite 85 (pedal harp): $140/month
Bonnie Goodrich has a Lyon & Healy concert grand 100 in excellent condition with beautiful tone for sale, priced at $16,500 (negotiable). If interested, contact her at 832.496.7302 or bgoodrich43@comcast.net. 
Elizabeth Webb has three harps for rent. If interested, contact her at elizabeth@houstonharpmusic.com.
Dusty Strings Boulevard: $70/month

Sandpiper Irish Harp: $60/month

27–string lever harp: $50/month
Li Wen Su has a Camac Hermine with 34 strings for sale. The harp is in excellent condition. For more information, contact him at liwensu@yahoo.com.
Mary Jane Sinclair, President
Kate Gabriele, Vice President
Alaina Graiser, Treasurer
Stephanie Gustafson, Secretary
Hope Cowan, Mildred Milligan Competition Chair
Elizabeth Webb, Webmaster
Like the information you see here? Want more content in real time? Be sure to join the discussion on our Facebook page by clicking on the button below!
We want your harp news! Email upcoming events, professional announcements, classifieds, and photos of past GHC events to

stephanie.gustafson2@gmail.com

.