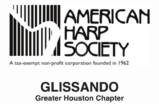 GLISSANDO


Greater Houston Chapter
December 2018
A Message From Our President

Happy Holidays to the GHC!

I thought I'd send you this greeting which is so incredibly witty and musically accurate. If you play this piece, you will certainly appreciate this rendition. So, take a deep breath and sing Mel Torme's "The Christmas Song" to these lyrics. I hope you and yours have a beautiful holiday season!

Octaves roasting on an open fire,
Major sixths nipping at your nose,
Major seconds being sung by a choir,
Chromatic alterations of the scale.

Diatonic scale. A turkey and some mistletoe
Major sixths make the season bright,
Major seconds with their eyes all aglow
Will drop a perfect fifth tonight.

There's minor sevenths on the way.
They've loaded lots of minor seconds on their sleigh,
And every minor sixth will want to spy,
To see the supertonic prolonged by the fire.

An octave offering this simple phrase
To major sixths one to ninety two,
Although it's been said many times, many ways,
Meet the Flintstones, to you!

—
Mary Jane Sinclair
GHC President

Dec. 1 at 1:30 pm
800 Aurora St.
Houston TX 77009

Join the Houston Youth Harp Ensemble for their fall semester program at 14 Pews. This is a great opportunity for students interested in participating in the spring semester to check out the program.

Studio Recital

Dec. 2 at 2 pm
Live Oak Friends Meeting
1318 W. 26 St

The harp students of Stephanie Gustafson will be performing their winter recital, faaturing classical, jazz, holiday, and pop songs.

Orchestral Dances & Jazz Salute

Dec. 6 at 7:30 pm

One Star College CyFair

ART Building Main Stage

Susanna Campbell

will be performing the Debussy's 

Danses Sacree et Profane 

with the Lone Star Strings. Admission is free; donations accepted for food pantry. For tickets,

click here

.
Announcing the Spring Semester of HYHE
Calling all harp students! The Houston Youth Harp Ensemble is now open for spring 2019 registration. "Harping Around the World" will feature music from a wide range of countries and cultures, showcasing an exciting array of genres and styles.
Harp students who have been playing for at least one year are welcome to join the prelude ensemble, and students who have been taking lessons should sign up for intermezzo. Lever and pedal harpists are welcome in both groups. The deadline to register is January 1, but students are encouraged to sign up early to guarantee a spot.
In addition to the May concert at Live Oak Friends Meeting House, the spring harp ensemble has been invited to perform a very special concert in March as part of the Abendmusik Concert Series. Register today to get involved or email houstonyouthharpensemble@gmail.com with any questions.
NEW Middle School Summer Harp Program
The American Festival of the Arts will hold an orchestra and chamber program for middle school harpists at High School for the Performing and Visual Arts from June 10–June 22 at which

Emily Klein

will be teaching as the Harp Faculty Artist this summer. Ms. Klein will be joined by Paula Page, former Houston Symphony Principal Harpist and Associate Professor of Harp at Rice University and Megan Conley, Houston Symphony Principal Harpist, for master class instruction. The Summer Festival is led by renowned music educators and world-class performers. Students will have the chance to participate in orchestra, large and small harp ensemble, master and studio classes, and enrichment classes such as yoga for musicians, music in film and music theory. The program is open to advanced 4th grade through 8th grade students

AFA's Summer Music Festival for High School students is open to 8th–graduated 12th grade students and will run June 24–July 13, 2019. 

Scholarships are available for need based and merit based assistance. This is an opportunity for students to continue their ensemble work over the summer with other like minded individuals from Houston. Questions? Contact Emily Klein at kleinemilys@gmail.com or visit the website.
Save the Date: March 3, 2019
The winners from the 2017 Mildred Milligan Competition following their May performance
Registration for the 2019 Mildred Milligan Competition is now open! The event will be held March 3rd, 2019 at St. Luke's Presbyterian Church and is open to Houston area students from first grade through college. Students will perform for a panel of professional harpists and receive detailed feedback on their playing. Winners will receive cash prizes and a performance opportunity at a GHC meeting. Registration and required repertoire are available 
here
. Questions? Email
Hope Cowan
at 
hope.k.cowan@gmail.com
.
Kinder High School for the Performing and Visual Arts—Kinder HSPVA—
is now accepting applications for the 2019–2020 school year. Applications are due December 7, 2018. Wind ensemble, orchestra, jazz ensemble, harp ensemble, chamber music, and optional private lessons twice a week are all included with the core curriculum. The mission of this unique school is to educate and inspire artistically gifted and talented students in specific disciplines while maintaining an equal focus on academic, social, and personal growth in a diverse environment. Students do not need to be living in HISD to be eligible to attend high school at Kinder HSPVA. The new building with state of the art facilities will be opening downtown Houston in January 2019. For application and audition information, please
click here
. Contact HSPVA harp instructor
Emily Klein
at kleinemilys@gmail.com and 610.574.7886 for more information.
Mary Jane Sinclair, President
Kate Gabriele, Vice President
Alaina Graiser, Treasurer
Stephanie Gustafson, Secretary
Hope Cowan, Mildred Milligan Competition Chair
Elizabeth Webb, Webmaster
Like the information you see here? Want more content in real time? Be sure to join the discussion on our Facebook page by clicking on the button below!
We want your harp news! Email upcoming events, professional announcements, classifieds, and photos of past GHC events to

stephanie.gustafson2@gmail.com

.