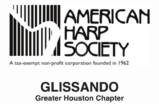 GLISSANDO


Greater Houston Chapter
January 2019
A Message From Our President

Gotta ask. What is your New Year's Resolution? Is it carving out more practice time? Finally mastering a massive harp score? Increasing your teaching studio? Getting organized for the umpteenth time? I'm like you. I start with the very best intentions. Then, Real Life interferes. This autumn, my family experienced a rocky couple of months. Anything on the scheduled grid went right out the window.

So, now, I yearn for normalcy. I resolve to worry less as what I feared has already happened and on my birthday. LOL! I resolve to finish my three–year term for the GHC as I eagerly anticipate my favorite project, the Mildred Milligan Competition in March, organized by Hope Cowan. I resolve to be of any assistance I can to any one who loves the harp. Let's resolve to make 2019 a musical year, bringing smiles and happiness to our world. Have a wonderful New Year and let me just add these musical words, the only resolution anyone needs, "Don't worry, be happy."

—
Mary Jane Sinclair
GHC President

Jan. 10 at 5 pm
Bar Boheme
307 Fairview Street

Please join the Shoso Duo (with harpist Susanna Campbell) for drinks and conversation at Boheme Cafe & Wine Bar, when a portion of the proceeds from all drink sales during the 5:00 PM–8:00 PM happy hour will go to support Shoso Duo's concert series "Songs for Shakuhachi and Harp." So enjoy a drink or two, meet the Shoso Duo team, and take ­in Boheme's bohemian atmosphere!

Jan. 20 at 6 pm

Archway Gallery

2305 Dunlavy Street

Emily Klein will be performing a free concert with flutist Izumi Miyahara. The group will play music inspired by the art exhibition, "Sentient Meat," featuring new works on paper by T Smith.
1/15 Registration Deadline for Spring HYHE
Calling all harp students! The
Houston Youth Harp Ensemble
 registration closes January 15th! "Harping Around the World" will feature music from a wide range of countries and cultures, showcasing an exciting array of genres and styles.
Harp students who have been playing for at least one year are welcome to join the prelude ensemble, and students who have been taking lessons should sign up for intermezzo. Lever and pedal harpists are welcome in both groups. The deadline to register is January 1, but students are encouraged to sign up early to guarantee a spot.
In addition to the May concert at Live Oak Friends Meeting House, the spring harp ensemble has been invited to perform a very special concert in March as part of the Abendmusik Concert Series. Register today to get involved or email houstonyouthharpensemble@gmail.com with any questions.
Chapter Event on Sunday, 2/3
Our next event for the 2018–2019 season is scheduled for Sunday, February 3, 2019 from 3:00–6:00 pm.

Join us for our post holiday chapter meeting and get–together. Please bring some sheet music and a favorite dish or beverage to share! The event will take place in the home of board member, Kate Gabriele, at 309 Snover Street, Houston, TX 77007. There is parking on nearby streets, such as Dickson and Patterson. Please mark your calendars to attend this entertaining meeting.

Please contact Kate Gabriele at kategabriele@yahoo.com or 469.831.4328 with any questions or concerns. We hope to see you there for some fellowship, food, and musical fun!
Above: Emily Klein's harp studio in recital December 2018. Ms. Klein teaches privately in Midtown and at HSPVA. For information regarding lessons, email 
kleinemilys@gmail.com
NEW Middle School Summer Harp Program
The American Festival of the Arts will hold an orchestra and chamber program for middle school harpists at High School for the Performing and Visual Arts from June 10–June 22 at which Emily Klein will be teaching as the Harp Faculty Artist this summer. Ms. Klein will be joined by Paula Page, former Houston Symphony Principal Harpist and Associate Professor of Harp at Rice University and Megan Conley, Houston Symphony Principal Harpist, for master class instruction. The Summer Festival is led by renowned music educators and world-class performers. Students will have the chance to participate in orchestra, large and small harp ensemble, master and studio classes, and enrichment classes such as yoga for musicians, music in film and music theory. The program is open to advanced 4th grade through 8th grade students.

AFA's Summer Music Festival for High School students is open to 8th–graduated 12th grade students and will run June 24–July 13, 2019. 
Scholarships are available for need–based and merit–based assistance. This is an opportunity for students to continue their ensemble work over the summer with other like minded individuals from Houston. Questions? Contact Emily Klein at kleinemilys@gmail.com or visit the website.
Save the Date: March 3, 2019
The winners from the 2017 Mildred Milligan Competition following their May performance
Registration for the 2019 Mildred Milligan Competition closes February 1, 2019. The event will be held March 3rd, 2019 at St. Luke's Presbyterian Church and is open to Houston area students from first grade through college. Students will perform for a panel of professional harpists and receive detailed feedback on their playing. Winners will receive cash prizes and a performance opportunity at a GHC meeting. Registration and required repertoire are available 
here
. Questions? Email
Hope Cowan
at 
hope.k.cowan@gmail.com
.
Triplette Premiere 38–string lever harp
Built in 1997
Asking for $3500, includes padded carrying case, extra strings, and tuning key
Contact Roger Hammonds at rogkham@yahoo.com
Camac Hermine 34–string harp, in excellent condition
Contact Li Wen Su at liwensu@yahoo.com for more information
Mary Jane Sinclair, President
Kate Gabriele, Vice President
Alaina Graiser, Treasurer
Stephanie Gustafson, Secretary
Hope Cowan, Mildred Milligan Competition Chair
Elizabeth Webb, Webmaster
Like the information you see here? Want more content in real time? Be sure to join the discussion on our Facebook page by clicking on the button below!
We want your harp news! Email upcoming events, professional announcements, classifieds, and photos of past GHC events to

stephanie.gustafson2@gmail.com

.