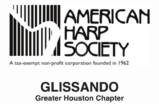 GLISSANDO


Greater Houston Chapter
March 2019
A Message From Our President

A gilder at Lyon & Healy is burnishing gold leaf by rubbing the surface with an agate stone to produce a luminous shine (PC: Lyon & Healy)

March 2019 arrives and the Mildred Milligan Competition celebrates its 30th year! Hope Cowan and her committee, Naomi Hoffmeyer, Emily Klein, Stephanie Gustafson, and Susanna Campbell, have, once again, brought the very BEST to compete on Sunday, March 3 at St. Luke's Presbyterian Church. Six levels of skill and 43 harpists will be participating! As the founding member of this project, I am thrilled to see this competition continue in such a remarkable way. I'll see you there!

This was Mildred Milligan's affirmation to her students: "Don't be nervous, I'll be sitting on your shoulder." She always believed in her students and was not shy to spread the encouragement.  Every year when I'm playing the "Irish Folder" which she compiled for us to perform in ensemble, each note brings her memory to life. In the back of the folder is a copy of the "Irish Blessing."

May the road rise to meet you.
May the wind always be at your back.
May the sun shine warm on your face,
And the rains fall soft upon your fields.
And until we meet again,
May God hold you in the palm of his hand.

Happy St. Patrick's Day!

--
Mary Jane Sinclair
GHC President

Senior Recital

March 1 at 5:45

Second Floor Recital Hall

HSPVA

Audrey Deigaard, a senior at HSPVA, will be giving her graduation recital, playing works by Debussy, Rota, Grandjany, and Naderman.

March 3, 12:30–8:00
St. Luke's Presbyterian
8915 Timberside Drive

Come cheer on harpists in grades 1—college as they compete. Sponsored by the GHC, the competition aims to encourage student growth and development while bringing together the harp students and teachers of the Houston area. All performances are free and open to the public.

March 4 at 7:30
Lawndale Art Center
4912 Main St

Featuring Marilu Donovan and presented by They, Who Sound and Nameless Sound, LEYA is an avant garde group made up of voice, violin, and harp.

March 31 at 4:00 pm

Kinsmen Lutheran

12100 Champion Forest

Come support the Houston Youth Harp Ensemble during their first performance of the spring semester. You'll hear beloved favorites such as "Danny Boy" and Joplin's "The Entertainer," from students and directors Naomi Hoffmeyer and Stephanie Gustafson.
Photos from the 2/3 Chapter Event
Members of the Houston chapter of the American Harp Society gathered on 2/3 for food, a sheet music exchange, and lots of harp playing!
The 2018—2019 board, from left: Elizabeth Webb, Kate Gabriele, Hope Cowan, Stephanie Gustafson, Alaina Graiser, and Mary Jane Sinclair
Susanna Campbell Profiled in Voyage Houston
Texas Summer 2019 Study Opportunities
Houston Summer Harp Festival
July 8–13, 2019
The Houston Summer Harp Festival brings young harpists together in a fun and educational atmosphere for a week of intense and non–competitive study of the harp, its history, and music. The festival is open to incoming 6th grade through recently graduated 12th grade lever harp and pedal harp students who are comfortable with reading bass and treble clef and have had a minimum of 6 months of harp instruction. In a relaxed atmosphere that encourages camaraderie and artistic growth, students are equipped with practical tools and experiences to become more confident musicians through ensemble playing, small group projects, workshops, and master classes.
Join faculty Kimberly DeRosa, Therese Honey, Hope Cowan, and Susanna Campbell this summer for a fun, harp filled week that culminates in a harp ensemble concert. Registration and scholarship applications can be found here.
SFA Strings Camp
July 7–13, 2019
A one–week string intensive, the SFA Strings Camp is for middle and high school aged string players. Camp students engage in musical studies with the string faculty and orchestra conductor of Stephen F. Austin State University, and harp students will work with harp faculty Stephanie Gustafson. Housing and meals are available but not required for participation. Students are encouraged to register if they have had at least 6 months of harp lessons and can read both treble and bass clef.
In addition to opportunities to perform with the string orchestra, harp students will participate in harp ensemble and master classes, in addition to receiving regular private lessons. The camp offers both personal attention for harp students and a large community with the rest of the string campers.
The deadline for registration is July 1, 2019. Details and registration information can be found here.
The American Festival of the Arts
June 10–22, 2019
The American Festival of the Arts will hold an orchestra and chamber program for middle school harpists at High School for the Performing and Visual Arts from June 10–June 22 at which Emily Klein will be teaching as the Harp Faculty Artist this summer. Ms. Klein will be joined by Paula Page, former Houston Symphony Principal Harpist and Associate Professor of Harp at Rice University and Megan Conley, Houston Symphony Principal Harpist, for master class instruction. The Summer Festival is led by renowned music educators and world-class performers. Students will have the chance to participate in orchestra, large and small harp ensemble, master and studio classes, and enrichment classes such as yoga for musicians, music in film and music theory. The program is open to advanced 4th grade through 8th grade students.
AFA's Summer Music Festival for High School students is open to 8th–graduated 12th grade students and will run June 24–July 13, 2019. 
Scholarships are available for need based and merit based assistance. This is an opportunity for students to continue their ensemble work over the summer with other like minded individuals from Houston. Questions? Contact Emily Klein at kleinemilys@gmail.com or visit the website.
Camac Hermine 34–string harp, in excellent condition
Contact

Li Wen Su

at liwensu@yahoo.com for more information
Mary Jane Sinclair, President
Kate Gabriele, Vice President
Alaina Graiser, Treasurer
Stephanie Gustafson, Secretary
Hope Cowan, Mildred Milligan Competition Chair
Elizabeth Webb, Webmaster
Like the information you see here? Want more content in real time? Be sure to join the discussion on our Facebook page by clicking on the button below!
We want your harp news! Email upcoming events, professional announcements, classifieds, and photos of past GHC events to

stephanie.gustafson2@gmail.com

.