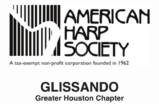 GLISSANDO


Greater Houston Chapter
October 2019
A Message From Our President

Happy fall! The weather might still feel like summer, but school and concert seasons are back in full swing. Good luck to all of our local harp students who will be participating in region auditions, fall orchestra concerts, and Texas All-State taping this month! Speaking of our amazing students, we are still seeking a new chairperson for the Mildred Milligan Competition next year. If you are interested in helping to run this fantastic event for our students, let me know and I can give you all the details. I encourage everyone to send in your membership dues, and get involved in our growing community. Please email our secretary with pictures from recent events, and send your upcoming performances so they can be included in the Glissando.
—

Hope Cowan
GHC President

October 6 at 3:00 pm
Emerson Unitarian Universalist Church
1900 Bering Dr.

The Gulf Coast Harpers are adult lever and pedal harp players of all levels who enjoy playing together as a harp ensemble. They will be presenting a program of folk music and original pieces, including harp ensemble, duets, and solos. If you are interested in participating in this or future harp ensemble performances in a low stress and supportive group, contact Elizabeth Webb or Therese Honey.
This is a reminder that membership for the GHC runs from September 1–August 31 and all memberships expire on September 1, 2019. All paid chapter members are able to post their harps and accessories for sale or rent on our website www.houstonharpists.com and in our monthly newsletter. You can also post a harp teacher listing, pictures, and upcoming harp events on our site. Thank you for supporting our chapter!
Are you looking to get more involved in the Houston chapter of the American Harp Society? The GHC board is looking for someone interested in heading up the 2021 Milligan Competition. Ideally, this person would be able to help plan the spring 2020 student chapter recital. The Milligan chairperson would receive the support of the board, the former Milligan chair, and a committee of his or her choosing.

Contact hope.k.cowan@gmail.com if you want to learn more or would like to get involved.
3rd, 4th, and 5th octave Bow Brand gut lever harp strings for sale (as pictured). Purchased in 2018, contact Christina Navarro at clcnavarro@yahoo.com.
Lyon & Healy Petite 85 for sale. Built in 2008, 36 strings. Serial #53074, Mahogany finish. This is a discontinued model which most closely resembles the L&H Chicago Petite 40 mahogany harp.

Played very little; in excellent, like-new condition. Sale includes harp, dust cover, padded bench and tuning key. Asking price $10, 299.

Contact: Belinda Mooney,
The Woodlands, TX
belindatmooney@gmail.com
281-633-6341
Bonnie Goodrich has a Lyon & Healy concert grand 100 in excellent condition with beautiful tone for sale, priced at $15,000 or best offer. If interested, contact her at 832.496.7302 or bgoodrich43@comcast.net.

Emily Klein has a Lyon & Healy Petite 85 pedal harp available for rent for $150/month. Renter must be a member of the American Harp Society and pay a $575 rental deposit.

Contact Emily at
kleinemilys@gmail.com for more information.
Hope Cowan, President
Kate Gabriele, Vice President
Alaina Graiser, Treasurer
Stephanie Gustafson, Secretary
Elizabeth Webb, Webmaster
Like the information you see here? Want more content in real time? Be sure to join the discussion on our Facebook page by clicking on the button below!
We want your harp news! Email upcoming events, professional announcements, classifieds, and photos of past GHC events to

stephanie.gustafson2@gmail.com

.