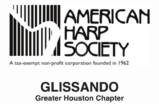 GLISSANDO


Greater Houston Chapter
November 2019
A Message From Our President

Happy Halloween, harpists!

I hope everyone is staying warm and having a wonderful fall. We have some fantastic events coming up in November with Rachel Lee Hall, winner of the 2019 Ima Hogg Competition. Please join us for her recital, or masterclass, or both! Now is also a great time to let us know about your upcoming holiday performances. The holiday season is always a busy one for harpists, so tell us where you are playing so we can come support you. As we approach Thanksgiving, I know I am thankful to be part of this great community of harpists! Happy Halloween, Thanksgiving, and Fall!

—

Hope Cowan
GHC President

Nov. 14 at 6:30 pm
Contemporary Art Museum

Featuring Naomi Hoffmeyer, this concert is presented in conjunction with the exhibition Nari Ward: We the People. Naomi will be performing Kinen Azmeh's It's About Time.

Nov. 17 at 5 pm
Nov. 21 at 6 pm

Please see below for more information.
Announcing Two November Events
The Greater Houston Chapter of the American Harp Society is pleased to invite you to two FREE events featuring Ima Hogg Concerto Competition Winner, Rachel Lee Hall. See below for more information, and feel free to share the attached flyer with anyone who may be interested.

November 17th, 5 pm at 1318 W. 26th St.
Please join us for an evening of virtuosic harp playing at Live Oak Friends Meeting House, where Rachel Lee Hall will perform a solo recital. The recital is free and open to the public and will be followed by a reception. Donations will be accepted.

November 21, 6 pm at 1759 Sylvester St.
Rachel Lee Hall will teach a masterclass at the Houston Musician's Union. This masterclass is part of her week-long Education & Community Engagement Residency, presented by the Houston Symphony and the Greater Houston Chapter of the American Harp Society. Masterclass participation is open to middle school and high school harpists who are members of the GHC. There is no cost to participate, and the class will be free and open to the public. To sign up to play in the masterclass, please fill out this form: https://forms.gle/8Pv82HhsbWDERuof9. Please note that participation will limited to the first 8 student GHC members who sign up.
Bonnie Goodrich has a Lyon & Healy concert grand 100 in excellent condition with beautiful tone for sale, priced at $15,000 or best offer. If interested, contact her at 832.496.7302 or bgoodrich43@comcast.net.
Hope Cowan, President
Kate Gabriele, Vice President
Alaina Graiser, Treasurer
Stephanie Gustafson, Secretary
Elizabeth Webb, Webmaster
Like the information you see here? Want more content in real time? Be sure to join the discussion on our Facebook page by clicking on the button below!
We want your harp news! Email upcoming events, professional announcements, classifieds, and photos of past GHC events to

stephanie.gustafson2@gmail.com

.