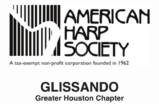 GLISSANDO


Greater Houston Chapter
December 2019
A Message From Our President

Happy Holidays! As we enter a busy time of year, I hope you all have a chance to enjoy some special holiday traditions, and play beautiful music. Please let us know where you are playing so our members can enjoy some harp music this holiday. Scroll down to get details for our annual New Year's party—I hope to see you there to decompress after a busy season. Happy harping and have a good December.

—

Hope Cowan
GHC President

Dec. 8 at 10:30 am
Archway Gallery

Join the HYHE for their December concert featuring music from Harry Potter, Beauty and the Beast, the Wizard of Oz, and other original tunes! Audience members will also be treated to a few special surprises from directors Naomi Hoffmeyer and Stephanie Gustafson.

Stephanie Gustafson's Studio Recital

Dec. 14 at 10:00 am
Live Oak Friends Meeting House

Harp lovers and prospective students are invited to join Stephanie and her students for their bi-annual studio recital. Please stick around for the reception afterwards, too!
Photos from November Chapter Events
From left: Joseph Cangemi, Sydney Gray, Rachel Lee Hall, Lauren Budoff, Miranda Rinaldi, and Nora Navarro (not pictured: Mia Butler)
On November 17th, 2019 Ima Hogg Concerto Competition Winner Rachel Lee Hall performed a recital at Live Oak Friends Meeting House for a captivated audience. Titled "Arabesque," she performed transcriptions of "Musetta's Waltz," an aria in Puccini's opera La Boheme, Debussy's "First Arabesque," and Bach's Lute Suite, in addition to Tournier's Sonatine for Harp.

On November 21, she led a masterclass for six middle school and high school harpists, sponsored by the Houston Symphony at the Houston Professional Musician's Union.
Save the Date: January 5, 2020
Please join the Greater Houston Chapter of the American Harp Society for our post–holiday gathering on Sunday, January 5, 2020, from 3–6 pm. The social will take place at board member Kate Gabriele's house (309 Snover Street, Houston 77007). There is parking on nearby streets, such as Dickson and Patterson. Please bring your favorite dish or beverage to share and music to donate to the Harper's Bazaar, which benefits our chapter. A pedal, lever, and lap harp are there for you to play a piece you would like to share.

We hope to see you there for some fellowship, food, and fun!
Registration is now open for the spring 2020 semester! Rehearsals are held two Saturdays mornings each month at the Houston Professional Musician's Union. Lever and pedal harpists who have been playing for at least one year are encouraged to sign up soon, as repertoire will be tailored to the participating students. The ensemble is directed by Naomi Hoffmeyer

and Stephanie Gustafson. To receive early bird pricing, students must sign up by December 31. Starting January 1, the price will increase. Students interested in receiving scholarship must also apply and submit supporting materials by December 31.

Visit https://houstonyouthharpensemble.com/ for more information or click here to register. Please feel free to email Stephanie + Naomi at houstonyouthharpensemble@gmail.com with any questions or concerns!
In case you missed it, GHC chapter president Hope Cowan was recently interviewed by Kristina Finch for Harp Column's podcast. Also featured in the Sept./Oct. 2019 issue of the magazine, Hope talks in-depth about her career as a freelance harpist in Houston and the harp community here (and gives a shout-out to our local chapter!).

You can hear the podcast on Apple or by clicking here.
Congratulations to the HYHE!
The Houston Youth Harp Ensemble has been awarded a grant from the American Harp Society! This funding was given to allow the HYHE to continue offering scholarships in 2020. With a goal "to celebrate our legacy, inspire excellence, and empower the next generation of harpists," the AHS looks to fund programs that meet these tenants.
Apply to Kinder HSPVA for high school! The deadline for the written application is December 6. Please visit https://www.houstonisd.org/Page/85750 to learn more about the audition process.

For more information about the harp program, please contact Emily Klein at kleinemilys@gmail.com or by phone at 610-574-7886.
Bonnie Goodrich has a Lyon & Healy concert grand style 100 in excellent condition with beautiful tone for sale, priced at $15,000 or best offer. If interested, contact her at 832.496.7302 or bgoodrich43@comcast.net.
Pedal harp for sale
Lyon & Healy Petite Pedal 85 (discontinued model)
Priced at $9500
Includes harp, dust cover, padded bench, and tuner

Text Belinda for more information at 281-633-6341
Antique music stand for sale
Solid brass with sconces on each side
$1,500
Text Belinda for more information at 281-633-6341
Two harps available rent from Emily Klein:
Lyon and Healy Prelude lever harp for rent, 3 month minimum rental requirement
Lyon and Healy Petite Pedal harp for rent, 3 month minimum rental requirement
Contact Emily for more information at kleinemilys@gmail.com
Hope Cowan, President
Kate Gabriele, Vice President
Alaina Graiser, Treasurer
Stephanie Gustafson, Secretary
Elizabeth Webb, Webmaster
Like the information you see here? Want more content in real time? Be sure to join the discussion on our Facebook page by clicking on the button below!
We want your harp news! Email upcoming events, professional announcements, classifieds, and photos of past GHC events to

stephanie.gustafson2@gmail.com

.