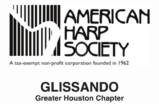 GLISSANDO


Greater Houston Chapter
January 2020
A Message From Our President

Happy New Year! I hope everyone had a good (busy) holiday season. 2020 promises to be a fantastic year for the harp community, and I am so excited about all the events happening throughout the city. I hope you will join us for the annual New Year's Party hosted by Vice-President Kate Gabriele, and also come to some of the fantastic concerts happening in the next few months. I wish all of you a Happy New Year, filled with music, friends, and harp!

—

Hope Cowan
GHC President

Post-Holiday Gathering

Jan. 5 at 3 pm
Kate Gabriele's House

Please see the message below for more information about this special event!
Coming Up: January 5, 2020
Please join the Greater Houston Chapter of the American Harp Society for our post–holiday gathering on Sunday, January 5, 2020, from 3–6 pm. The social will take place at board member Kate Gabriele's house. Please email her at kategabriele@yahoo.com for the exact address. There is parking on nearby streets, such as Dickson and Patterson. Please bring your favorite dish or beverage to share and music to donate to the Harper's Bazaar, which benefits our chapter. A pedal, lever, and lap harp are there for you to play a piece you would like to share.

We hope to see you there for some fellowship, food, and fun!
Bridget Kibbey Coming to Town
Harpist Bridget Kibbey will be performing
Folk Inspirations
on February 24th and 25th as part of Da Camera of Houston's concert series at the Menil Collection. She is an amazing, dynamic performer, this is a concert not to miss.
Da Camera is offering a special 20% discount for members of the GHC of the AHS. Use coupon code HARP20 when buying tickets.
Seating is limited, so buy tickets soon! Tuesday night apparently has more availability. Hope to see you there! Huge thanks to Da Camera for the special harp promotion!
Save the Date: April 19, 2020
Our student chapter recital will be Sunday, April 19th at 3:00pm at St. Luke's Presbyterian Church. More details and a sign-up form coming soon. We hope many of our school–aged student members will perform!
Registration is now open for our spring 2020 semester, Under the Sea! Think Blue Danube Waltz, that classic Little Mermaid tune, and fun calypso rhythms. Rehearsals are held two Saturdays mornings each month at the Houston Professional Musician's Union. Lever and pedal harpists who have been playing for at least one year are encouraged to sign up soon, as repertoire will be tailored to the participating students. The ensemble is directed by Naomi Hoffmeyer and Stephanie Gustafson. Registration closes January 15.

Visit https://houstonyouthharpensemble.com/ for more information or click here to register. Please feel free to email Stephanie + Naomi at houstonyouthharpensemble@gmail.com with any questions or concerns!
Bonnie Goodrich has a Lyon & Healy concert grand style 100 in excellent condition with beautiful tone for sale, priced at $15,000 or best offer. If interested, contact her at 832.496.7302 or bgoodrich43@comcast.net.
Pedal harp for sale
Lyon & Healy Petite Pedal 85 (discontinued model)
Priced at $9500
Includes harp, dust cover, padded bench, and tuner

Text Belinda for more information at 281-633-6341
Antique music stand for sale
Solid brass with sconces on each side
$1,500
Text Belinda for more information at 281-633-6341
Hope Cowan, President
Kate Gabriele, Vice President
Alaina Graiser, Treasurer
Stephanie Gustafson, Secretary
Elizabeth Webb, Webmaster
Like the information you see here? Want more content in real time? Be sure to join the discussion on our Facebook page by clicking on the button below!
We want your harp news! Email upcoming events, professional announcements, classifieds, and photos of past GHC events to

stephanie.gustafson2@gmail.com

.